Katy ISD trustees approve design, addition for Katy Elementary School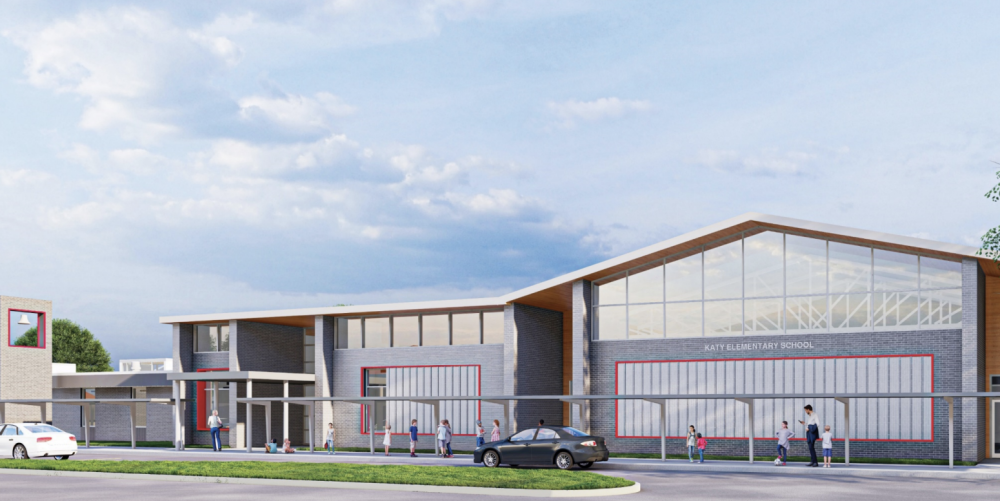 By: Laura Aebi - Community Impact
Katy ISD's board of trustees unanimously voted to approve the redesign of Katy Elementary School, located at 5726 George Bush Drive, Katy, at their Nov. 15 meeting. The proposed design shared by Kirksey Architecture at the meeting included major changes to both the interior and the exterior of the building, including a new two-story addition on the property and a new entry, enlarging the library, adding collaboration spaces, replacing the electric system and more.
"We have been so fortunate [to] be involved with the district and the architect team, and to create a design that we believe preserves the unique features of our building," Katy Elementary School Principal Beth Grimet said, adding that sixth-generation Katy Elementary School students are attending the school.
The new design does keep some of the the school's original features, such as a rain mural, the trees in front of the school and the school's bell—items council members described as "nonnegotiable." The $22.9 million project is funded by the district's $676.2 million bond that was approved by voters in May as well as savings from KISD's 2017 bond. The project is anticipated to begin construction in January and reach completion in August.
"Katy Elementary [School] has a long history," said Gary Machicek, executive vice president of design principal at Kirksey Architecture. "So it has been very exciting for us to really look at this and understand: How do we learn from that history and preserve those things that are important—but at the same time, take it into the future and make it something that'd be viable and be an exceptional school [as] we go forward."