The Greater Katy Area: People and Goods Move with Ease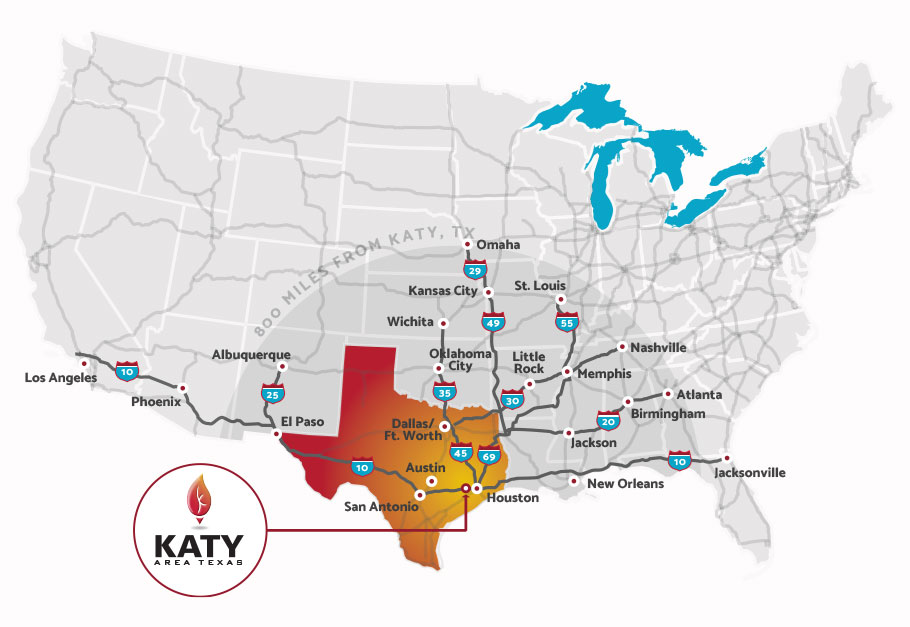 The Greater Katy Area, a premier location in Texas just 30 miles west of downtown Houston, maintains a comfortable and safe family-oriented community with easy access to the opportunities of a metro region. Located within one of the fastest-growing populations in Texas, Katy continues to offer small-town ambience coupled with a dynamic suburban lifestyle.
Katy is "where the Energy Corridor lives" – a preferred location for businesses and employees integral to the energy-related industries that flourish in our area. Drawing from a regional labor force of 3 million plus people, Katy is accessible by all major modes of transportation: road, port, air, and rail. Katy's highly-rated education system, along with several institutions of higher learning and nearby technical colleges, provides a reliable and world-class talent pool and draws innovative people to our region. The Greater Katy Area is the ideal location for your business to grow and thrive because our community is the sum of our parts and our parts are exceptional.
Highway
Katy is located on Interstate-10, only 25 miles from Interstate 45 and Interstate 59, and has four other major roadways — US 90, TX 99, Westpark Tollway, and Katy Tollway — which mitigate traffic to ease commutes and distribution of goods. I-10 runs from Jacksonville, Florida, to Los Angeles, California, and is the preferred southern truck route across the United States.
The Greater Katy Area is receiving millions of dollars in funding for new road construction and upgrades to existing roads through area mobility bond programs, with many road projects recently completed and in progress
Public Transit
Public transit needs are powered by METRO through The Grand Parkway Park and Ride Garage in the Katy area. Plan your trip on METRO Trip Planner by entering in the address: Grand Parkway Park & Ride, 1030 N Grand Pkwy, Katy, TX 77449 or on your smartphone using the METRO Trip App. 
---
Commercial Air
The Houston Airport System is among the largest airport systems in the world: George Bush Intercontinental Airport (IAH), William P. Hobby Airport (HOU), and Ellington Field (EFD). According to the Houston Airport System, Houston remains the only city in the western hemisphere with two four-star rated airports.
The airport system serves well over 60 million passengers (2019).annually and offers direct flights to roughly 240 locations domestically and 70 plus destinations internationally. Combined, approximately 450,000 tons of freight pass through the airport system each year. Business and industry in the Greater Katy Area are located roughly 30-45 miles from Hobby and Bush Intercontinental Airports.
George Bush Intercontinental Airport (IAH) is Houston's largest, and among one of the busiest airports in the U.S., serves as a hub for United Airlines. It ranks as Best U.S. Airport and Second-Best in North America (World Airport Awards).
William P. Hobby Airport (HOU) is a key airport for several airlines including Southwest, which flies to 14 international destinations such as Mexico, Belize and Costa Rica. Hobby ranks among the top-ranked airports regional in the U.S.
Ellington Field (EFD) supports the operations of the United States military, NASA, and a variety of general aviation tenants. The airport is home to the annual Wings Over Houston Airshow. Many of the astronauts from the world-renowned Johnson Space Center receive their ongoing space training and EFD is home to the Houston Spaceport, the nation's 10th commercial spaceport.
General Aviation
Houston Executive Airport (HEA), is located about one mile north of I-10 on the Katy ISD border. This airport provides 6,610 feet of runway with FBO and general services catering to corporate jet aircraft. 
West Houston Airport is located in the City of Houston and provides a 4,000 foot runway to accommodate aircraft of varying sizes. The airport operates 24 hours a day with expansive facilities in close proximity to the Greater Katy Area, specifically the Energy Corridor.
---
Rail
The City of Katy was born a railroad town, and rail continues to be an integral part of our logistics solutions. The Union Pacific Railway operates a branch line industrial lead track from the City of Katy that connects to Sealy, Texas. From Sealy, Union Pacific connects to cities throughout the Midwest and all points to the West Coast.
Ports
The Port of Houston is a 25-mile long complex of diversified public and private facilities located just a few hours by ship from the Gulf of Mexico. The port is consistently ranked: 
#1 in the U.S. for foreign waterborne tonnage 
#1 in U.S. for imports
#2 in the U.S. for export tonnage  
#2nd in the U.S. for total tonnage 
It is also the nation's leading break-bulk post, handling 65 percent of all major U.S. project cargo. Each year, more than 200 million tons of cargo move through the Port of Houston, carried by more than 7,700 vessels, and 150,000 barge calls.
The Port of Houston is made up of the public terminals owned, managed and leased by the Port of Houston Authority, and the 150-plus private industrial companies along the 52-mile long, 530-foot wide Houston Ship Channel. The Houston area is also served well by ports in Texas City, Galveston, and Freeport, Texas.