Katy Area Economic Development Council launches website to showcase business advantages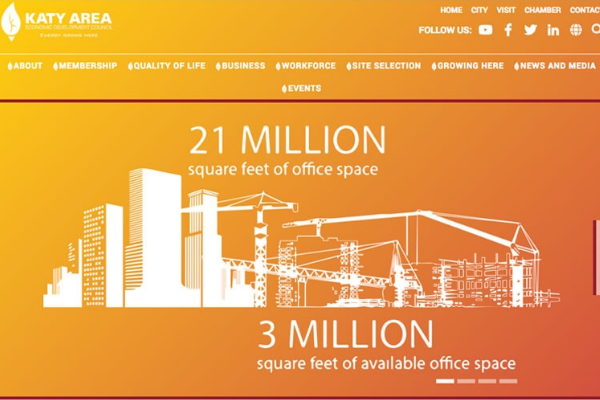 The Katy Area Economic Development Council (Katy Area EDC) has launched a new comprehensive website to bolster its online presence and highlight business opportunities and advantages in this burgeoning area of southeast Texas.

Katy Area EDC is focused on business recruitment, development and expansion in and around Katy, Texas, which is just 25 miles west of Houston. The user friendly, online portal includes an array of information about the region, including its workforce, business incentives and quality of life. It features powerful Zoom Prospector and GIS Planning tools that enable auto population of area demographics and community profile data.

The website will be a valuable resource for finding real estate in the area. It includes details about the 81 buildings and 82 sites currently available in the area. Brokers will have the ability to upload photos and brochures to the site themselves and all properties will also be featured on Texas Site Search via ZoomProspector.

"Our new website provides a fresh look to users with improved access to information about the Katy area," said Katy Area EDC President/CEO Lance LaCour. "We look forward to users utilizing our new site and its many excellent features."

Katy Area EDC selected Golden Shovel Agency to design the website. The national economic development communications firm is recognized for its award-winning design and expertise in business and workforce attraction.

"We look forward to working closely with Golden Shovel and its marketing team to continue to enhance our marketing efforts and promote the Katy area "As part of this, we will explore new tactics to enhance the visibility on the Katy area," said LaCour.

"It was a pleasure to collaborate with the Katy Area EDC on this customized online portal for economic development. The site demonstrates the area's many attributes and resources as well as its growth potential," remarked Aaron Brossoit, CEO of Golden Shovel.

Visit the new site at: http://www.katyedc.org/

The Katy Area Economic Development Council (Katy Area EDC) is a full-service private, non-profit, 501(c)6 economic development corporation that leads economic development efforts in the Katy, Texas region. It works to recruit, retain and expand high quality, high impact companies, jobs and talent to improve the quality of life for Katy area residents. Since its inception, the Katy Area EDC has grown to over 200 members and has assisted in the creation of thousands of jobs and billions in capital investment.

GOLDEN SHOVEL AGENCY is a Minnesota-based Web full-service economic development firm specializing in workforce attraction for economic and community development. The Economic Gateway Web system includes an expandable and on-demand content management system (CMS) and a robust social media implementation strategy.