Dining out: These restaurants are on their way to Katy in 2019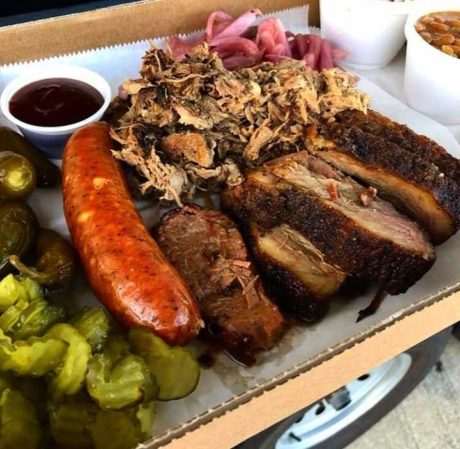 By: Jen Para - Community Impact
The Katy area is full delicious places to eat and drink, and more options are on the way. The following restaurants are expected to open in 2019.
85°C Bakery Cafe
In August we reported that 85°C Bakery Cafe expects to open a new location in the Katy Grand shopping center during the first quarter of 2019. Katy Grand is located in the northeastern corner of the intersection of I-10 and the Grand Parkway The cafe is known for its iced sea salt coffee and its baked goods, and the restaurant offers 60 types of bread, cakes and beverages including Boba tea, slushes, smoothies and blended coffee drinks. www.85cbakerycafe.com
Cooper's Old Time Bar-B-Que Pit
In October we reported that Cooper's Old Time Bar-B-Que Pit will open its second location in late 2019 at 24205 I-10, Katy. Menu options include brisket, cabrito, chicken, chopped beef sandwiches and sausage. Beans, coleslaw, corn on the cob and potato salad are included in the sides. Dessert lovers can sample apple, blackberry and peach cobbler. www.coopersbbqllano.com
Daddy Duncan's BBQ
In November we reported that Daddy Duncan's BBQ—a popular food truck and catering company—will open a permanent location on 2 acres of land across from Four Seasons Park near the intersection of Katy Hockley Cut Off Road and Clay Road. It is expected to open in spring 2019 and will have a 1,500-square-foot barn for dining, a beer garden, fishing hole and stage for music acts. The restaurant will serve Texas-style barbecue such as brisket, pulled pork and ribs. 713-898-9910. www.daddyduncansbbq.com
Frankie & Darling's
In September we reported that Frankie & Darling's will open before the end of the year at 27110 Cinco Ranch Blvd., Ste. 1300, Katy. But according to the cookie shop's website, the store has not opened quite yet, but it will in early 2019. Frankie & Darling's will feature fresh cookies made from scratch as well as dessert bars, such as brownies and lemon bars. Nonalcoholic beverages, such as tea, coffee, milk and lemonade, will also be offered. Custom-designed sugar cookies will also be available to order from the business. www.frankieanddarlings.com
Hat Creek Burger Co.
In November we reported that Hat Creek Burger Co. will open two locations in Katy and Fulshear in 2019. The company purchased a 0.91-acre pad site in Fulshear inside the Cross Creek Commons shopping center, which is located at the intersection of FM 1463 and Fry Road. Hat Creek's website shows that another location is coming soon to Katy, but an address was not provided. Known for its cheeseburgers and shakes, the Austin-based concept started as a food truck in 2008, and each restaurant also includes a playground.
In-N-Out Burger
In October we reported that In-N-Out Burger will open its second Greater Houston-area location in Katy at on the northeast corner of Katy Fort Bend Road and the I-10 frontage road. Marketing materials for the shopping center the restaurant will be located in state that the store will open in 2019. www.in-n-out.com
Jax Grill
In July we reported that Jax Grill will open at at the Stableside at Falcon Landing located near Gaston Road in Katy in 2019. The restaurant's menu includes mesquite-grilled meats, shrimp baskets, po'boys, catfish, chicken friend chicken and fresh cheesecake made daily. www.jaxgrillhouston.com
Mala Sichuan Bistro
In August we reported that Mala Sichuan Bistro was expected to open in August at 23119 Colonial Parkway, Ste. C-2 in Katy Asian Town, but the location has not opened yet, a store employee said on Jan. 2. It is likely to open in 2019. The restaurant will feature a sichuan menu that includes simple dishes like fried rice and chow mein as well as more traditional dishes such as shredded pork with wood ear mushrooms and Chinese eggplant in spicy garlic sauce. The restaurant has two other Greater Houston locations. www.malasichuan.com
Mason Jar
Mason Jar will open in early 2019 at 727 W. Grand Parkway S., Katy, a spokesperson confirmed. The longtime Houston restaurant was previously located at 9005 Katy Freeway, Houston, but closed in 2016. It was established in 1973. The eatery offers a menu of chicken fried steak, prime rib soup, salads and its popular artichoke dishes. The new location also has a children's play area, covered patio, TVs, to-go options and pizza bar. www.masonjarrestaurant.com
Mia's Table
In July we reported that Mia's Table would open in late 2018 in the 700 block of the Grand Parkway in Katy. The restaurant has not started construction yet but plans to open in late 2019, a spokesperson said via email. Owner Johnny Carrabba said in July that the restaurant, which is named after his daughter, will be family-friendly and serve classics like chicken-fried chicken and burgers but is best known for fish tacos. Blue Bell shakes and malts as well as frozen custard will be available for dessert. www.miastable.com
Molina's Cantina
We reported in December that Molina's Cantina will open a restaurant late 2019 at 6300 FM 1463, Fulshear, inside a new 5-acre shopping center called Shoppes at Cross Creek. The 77-year-old local restaurant serves enchiladas, fajitas, tacos and queso as well as margaritas and Mexican beer. Molina's has two other locations in Houston at 7901 Westheimer Road and 3801 Bellaire Blvd. www.molinascantina.com
Somi Somi
We reported in December that SomiSomi Soft Serve & Taiyaki will open a store inside the Katy Grand development at 23330 Grand Circle Blvd., Ste. 150, by the second quarter of 2019. The brand serves Korean-inspired soft serve ice cream with fillings and toppings inside a fish-shaped cone. It also sells taiyaki, which is a Japanese pancake-like cake filled with Nutella, custard, cheddar, red bean or taro. www.somisomi.com
Tea Bar and Organics Cafe
Tea Bar and Organics Cafe will open a location in Katy Asian Town, near the northeast intersection of I-10 and the Grand Parkway in early 2019, a store employee confirmed in late December. The brand offers coffee, smoothies, and tea as well as rice plates, noodle bowls and waffles. There are three other locations in the Houston area. www.teabarorganics.com
Union Kitchen
In July we reported that Union Kitchen will open at Stableside at Falcon Landing located near Gaston Road in Katy in 2019. The restaurant's menu includes brick oven pizzas, burgers as well as steak, pork chop and seafood dishes. www.theunionkitchen.com
Vortex Sports Grill and Entertainment
In August we reported that Vortex Sports Grill and Entertainment would open at 24757 I-10, Katy, by the end of 2018. However, a spokesperson said that the restaurant will now open in early 2019. The menu will include burgers, Tex-Mex favorites and gyros. Bands, dance groups and DJs will perform on the weekends. Family-friendly events like movie nights and karaoke will also be regularly held. www.vortexsportsgrill.com