Katy Area EDC holds Visions of Katy: Leadership at The Club at Falcon Point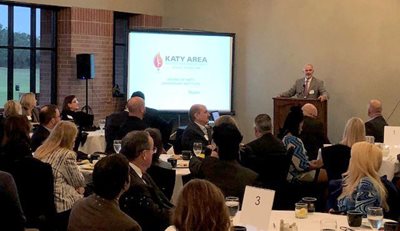 The Katy Area Economic Development Council held Visions of Katy: Leadership on Wednesday, October 24 at The Club at Falcon Point. The event brought together roughly 50 Katy area community members to discuss leadership and strengthening partnerships within the Katy area.

For the past several years, Katy Area EDC, led by the Katy Area EDC Leadership Task Force chaired by Stan Goss, has been hosting Visions events which bring together a diverse group of Katy area community members to discuss topics relevant to quality of life in the area. The events serve as a tool to help identify solutions to make the Katy area a better place to live and work.

To begin the event, an overview of the current state of the community was provided Stan Goss and Katy Area EDC President/CEO Lance LaCour. Highlighting the presentation was the announcement of a planned Leadership Institute being formulated by the Katy Area EDC Leadership Task Force. Plans for the institute call for an immersive 9-month program designed to "Equip Present and Future Leaders of the Greater Katy Area." The program will focus on topics including economic development, innovation development, community development, cultural development and personal development.

Following the overview, those in attendance held conversations with members of the table which they were seated at. Table leaders facilitated the discussions on leadership and ways to better improve partnerships that will directly impact quality of life of area residents. Specifically, the Katy area contains several counties and municipalities and the opportunity to further strengthen and grow partnerships among all area entities was a key topic. Tables also discussed the proposed Leadership Institute and its structure going forward.

After small group discussion among individual tables, key highlights from table discussion were shared by each table to all of those in attendance. Based on discussion at the event, a white paper will derived to serve as a blueprint to make an impact on the specific topic area of leadership moving forward which will include refinement of Leadership Institute program.

For more information on Katy Area EDC, please visit www.katyedc.org.
More Topics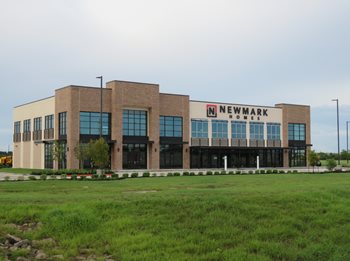 For information contact:          Melissa Guerra @ 281.433.3984 mguerra@newmarkhomes.com Leasing has started for a new 24,000-square-foot office building located in Parkside Capital's University Center along Interstate 10 just east of the Grand Parkway in Katy.   Owned by Newmark Homes, the building will be the builder's new corporate headquarters. It will...