The Square at Elyson retail development underway in Katy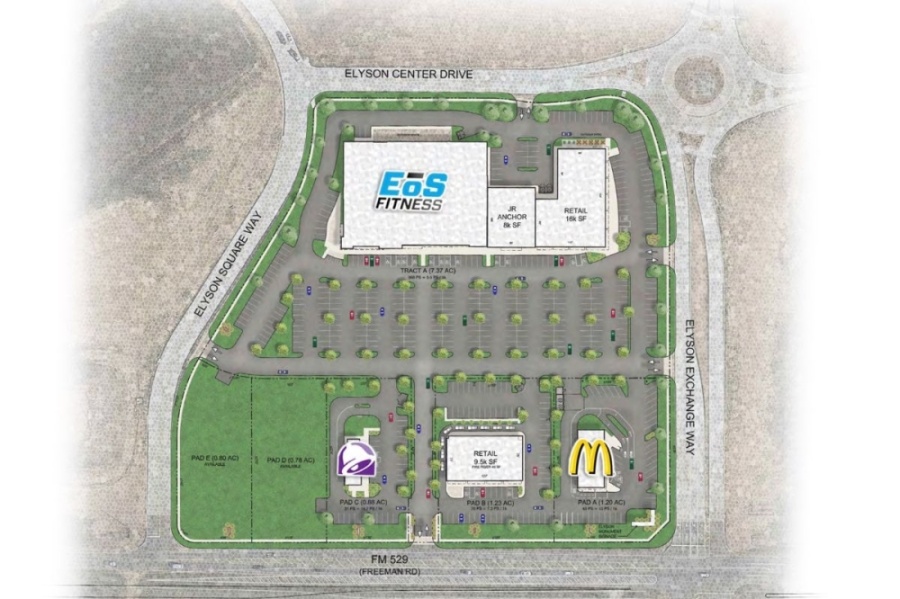 By: Asia Armour - Community Impact
A new retail center is under construction on a 12-acre site at Grand Parkway and FM 529 in Katy.

The Square at Elyson, a project by commercial real estate company Excel, has plans for a 75,000-square-foot marketplace with more than 450 parking spaces. It is set to complete construction by late summer 2024, according to a March 9 press release.

The retail center is bordered by a site owned by H-E-B, The Plaza at Elyson, a Target and a Burlington department store. Already, the site has a collection of preleases—but there are still several spaces available.

Current leases include Phoenix-based fitness center, EOS Fitness. The business plans to move into a 40,000-square-foot space and offer workout classes and amenities. Other tenants include Salata, Heartland Dental and American Family Care, which is an urgent care walk-in clinic.
EOS Fitness is one of several tenants that have preleased space at The Square at Elyson. (Rendering courtesy Excel Commercial Real Estate)
Taco Bell and McDonald's have also leased pad sites along the front of the development along FM 529.

In addition, Excel is working with a pet supply retailer for approximately 7,500 square feet of inline retail space next to EOS Fitness, according to Clay McDaniel, managing member of Excel.

Two additional pad sites are planned along the FM 529 frontage of The Square at Elyson.

The Elyson master-planned community opened in 2016 and has more than 2,000 completed homes. Upon buildout, the development will have more than 6,000 single-family homes. The community is zoned to Katy ISD.

Other retail developments within the Elyson community include the Co-Op at Elyson and the Shops at Elyson, both located on the south side of FM 529.