Fort Bend Entrepreneur initiative provides assistance to hundreds of small businesses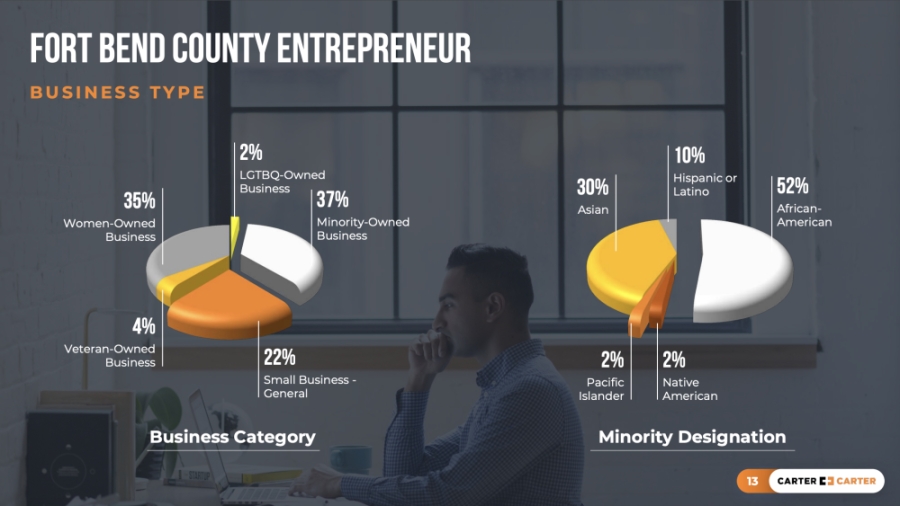 By: Morgan Theophil - Community Impact
Nearly 700 Fort Bend County small businesses have received free one-on-one coaching designed to help them stay afloat during the COVID-19 pandemic through the county's Fort Bend Entrepreneur program.
Stephen Carter, co-owner of consulting group Carter Brothers, which partnered with the county to run the initiative, presented an update on the program to Fort Bend County commissioners at their June 8 meeting.
The program started last July with the goal to provide educational and coaching services to businesses in the county that were adversely affected by the COVID-19 pandemic, Carter said.
At the time, the goal was to assist 400 businesses, but the consultants quickly found that there was more need.
"A lot of businesses had to redefine how they do business," Carter said. The consultants were fortunate to get approval to extend their goal and try to reach 750 businesses in the community, he said.
As of March 31, a total of 686 businesses have participated, Carter said.
"We've seen a lot of success," he said.
One of the priorities of the program was to target businesses that are the most disadvantaged, Carter said. Of the 686 participating businesses, 37% are minority-owned, 35% are women-owned, 4% are veteran-owned and 2% are LGTBQ-owned.
"As we looked at minority-owned businesses, women-owned businesses, LGBTQ-owned businesses, we found that there's a pattern of having lack of access, a lack of knowledge of business practices, a lack of resources. ... These businesses saw more of a negative impact than others," he said.
The biggest participation has come from businesses in Sugar Land, where 196 participating businesses are located, and Missouri City, where 169 participating businesses are located. Forty-nine participating businesses are located in Katy.
The program has several components, including offering businesses one-on-one coaching, virtual classes, peer group meetings and virtual conferences. Ultimately, the goal is to work with businesses on an individual level to make sure they receive specific guidance, strategies and tools to rebound from the negative impact of COVID-19.
"A lot of times small-business owners feel like they're in it by themselves, like there's no one else out there. It's a very lonely road," Carter said. "So a lot of this program is creating an ability for people to kind of feel like, 'Hey, I'm a part of a network; I'm part of a community.' We're all in this together, and we saw a lot of working with each other and helping each other survive."
County Judge KP George said he hoped the infrastructure that has been created through the initiative will be here to stay once the pandemic ends.
"This need is not going to go away with COVID," he said.
More information about the Fort Bend Entrepreneur initiative can be found at www.fortbendentrepreneur.com.