Thiele takes oath of office as Katy mayor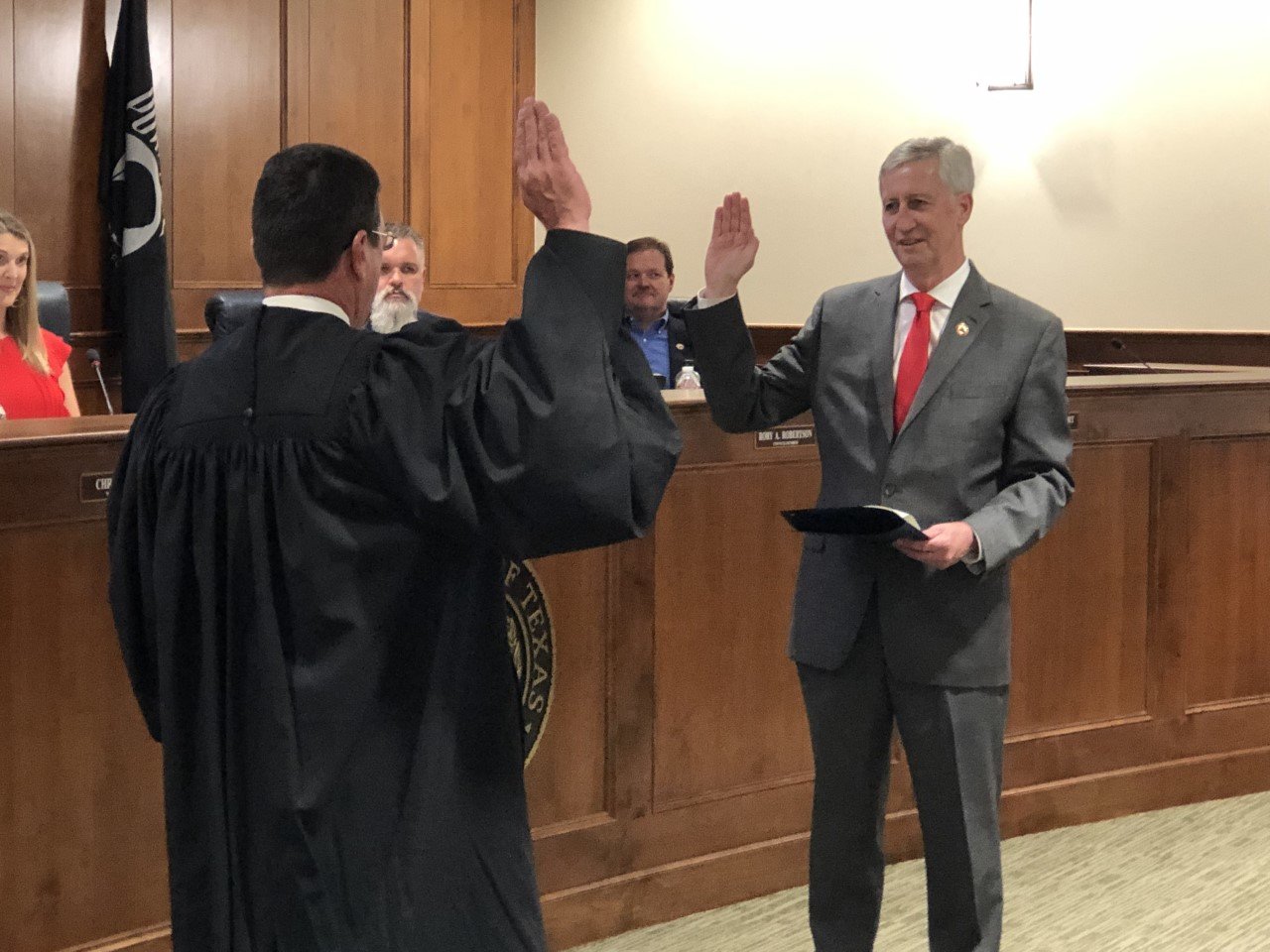 By: George Slaughter - Community Impact
Insurance executive William "Dusty" Thiele became Katy's 17th mayor Friday in a swearing-in ceremony at City Hall.
In remarks made after he took his place in the mayor's chair, Thiele jokingly thanked everyone who voted for him. The overflow crowd in the council chamber laughed, as Thiele was the only candidate to file for mayor.
Under recent voter-approved changes to the city charter, only the mayoralty was on the ballot this year. But because Thiele was the only candidate to file for the job, the city cancelled the election and declared him the winner.
Municipal Judge Jeffrey C. Brashear administered the oath of office. The mayoral term of office is three years.
Thiele, a Katy resident since 1991, has held positions on several different city boards and commissions. He has also served on the city council. The circumstances of his service were unique. He served out the term of a Ward B council member but did not seek election in his own right to that seat.
After his council term ended, Thiele moved to Ward A. In November 2020, Ward A Council Member Frank Carroll resigned his seat, and then-Mayor Bill Hastings appointed Thiele to serve the remainder of Carroll's term. Thiele served but did not seek election in his own right to that seat. Dan Smith holds that seat today.
Thiele succeeds Hastings, who retired after one term in office. Hastings's retirement ends a remarkable 47-year public service career, which included serving as mayor and police chief, among other roles. Thiele and council members paid tribute to Hastings and remembered his accomplishments.
Hastings served as the city's third police chief before retiring from that role and winning election as mayor in 2019. In deference to his police service, Police Chief Noe Diaz presented Hastings with a special Katy Police Department badge. Diaz said the badge design was changed a few years ago and the badge given to Hastings—the only one of its kind—says "retired."
Hastings said he and his wife Susan, who recently retired from her role at Katy Christian Ministries, were moving to a house near Lake Livingston, but would remain involved in Katy affairs. Hastings said a particular passion of his is Leyendecker's Landing, a city water retention facility named in honor of longtime city engineer David Leyendecker, who died in 2020. The city dedicated Leyendecker Landing in April.