Presentation by Fort Bend County Judge KP George highlights September GA meeting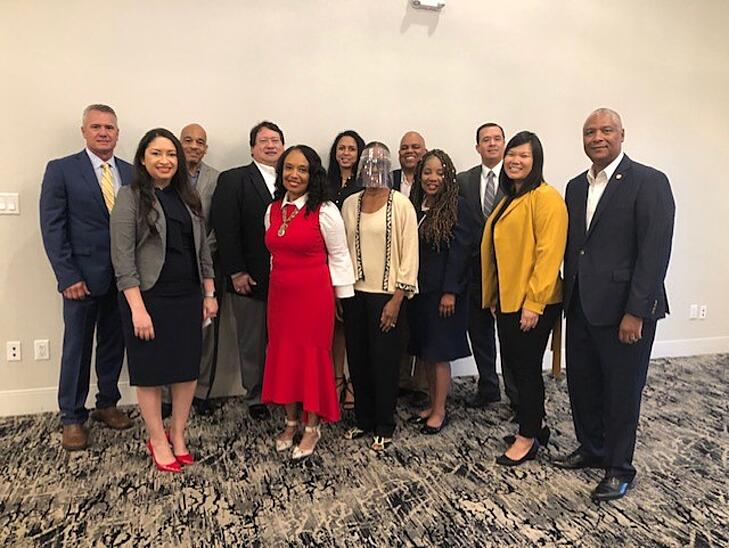 Katy Area Economic Development Council welcomed members and guests to its September General Assembly hosted by Aloft Katy on Tuesday, September 21. Fort Bend County Judge KP George served as the keynote presenter for the event which was followed by the first ever Katy Area Business Opportunity Conference.
Judge KP George took office in January 2019 following several years of service on the Fort Bend ISD School Board. George oversees county operations which include over 3,000 employees and a budget of roughly $400 million. Recently, Fort Bend County has been recognized as one of the fastest growing counties in the country and he spoke of the importance of keeping pace with the growth, specifically infrastructure such as transportation and flood mitigation. During his time in office, Fort Bend County has passed bond resolutions focusing on the two aforementioned areas, and that will remain a priority for the county moving forward. George also noted while growth continues at a tremendous pace, quality of life must remain a focal point.
"We'd like to thank Judge KP George for attending our meeting," said Katy Area EDC Chair Rick Lawler. "Fort Bend County continues to build on its strong reputation for business attraction and growth, and we are excited to assist the county however possible moving forward."
At the meeting, Katy Heritage Society and Springtime Pediatrics were announced as new members, and Hyatt Regency was recognized for its membership upgrade to the Strategic Partner level. Board members Caldwell Companies, Consolidated Commutations, Harris County and TriStar Holdings were highlighted for membership renewal along with Grand Parkway Industrial at the Strategic Partner level, and British International School Houston, Community Impact, Energy Recovery, Levin & Atwood and Ricewood MUD at the Associate level.
Aloft Katy and Consolidated Communications served as breakfast sponsors for the event.
The Katy Area Business Opportunity Conference featured two panel discussions with procurement professionals from the private and public sector, as well as representatives from organizations that provide assistance to small businesses interested in growing their business through procurement opportunities. The panelists were very engaging and shared valuable information to help business owners become minority-owned, women-owned, and HUB certified, among others.
"Bringing business owners, procurement specialists and resources together in one room is a first great step to helping businesses in the area continue to add to the growth of the Katy area," said Katy Area EDC Diversity Committee Chair Karla DeCuir.
For more information about the Katy Area Business Opportunity Center and to add your business to the directory, visit katybusinessopportunitycenter.org.
The next Katy Area EDC GA meeting will take place Tuesday, October 19. Visit katyedc.org for more information.