First Texas PopStroke, designed by Tiger Woods, coming to Katy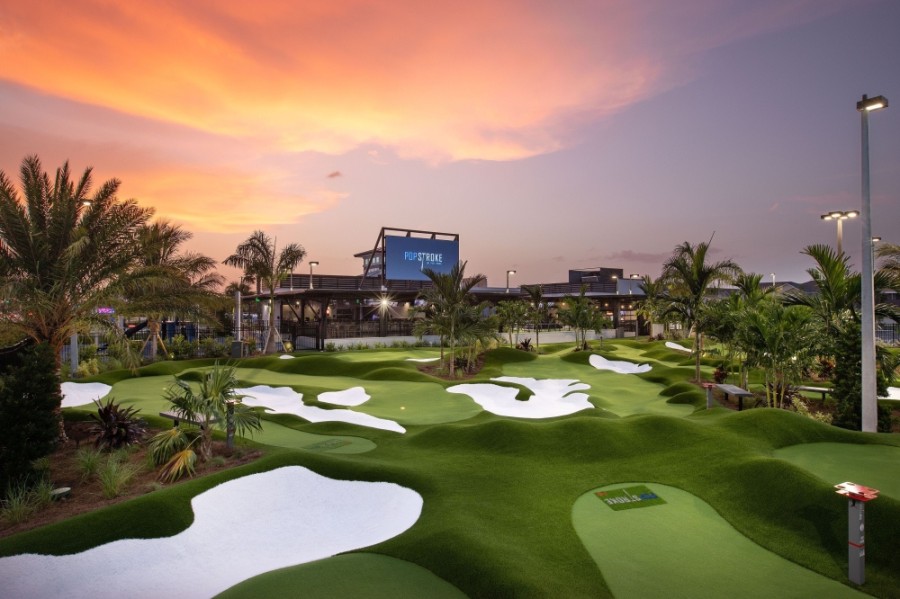 By: Laura Aebi - Community Impact
The first Texas location of PopStroke, a Florida-based golf entertainment facility designed by Tiger Woods, is coming to the Katy area in 2022. The attraction will be built on a 3.2-acre tract at the Katy Grand and feature an 8,000-square-foot restaurant.
"PopStroke is the most innovative family-oriented golf concept in today's entertainment category. Choosing Katy Grand for its flagship location in Texas is an incredible honor," said Jeff Hayes, managing partner of NewQuest's land and tenant advisory services.
The facility will consist of two 18-hole golf courses designed by Woods at a variety of skill levels. It will also host a full-service restaurant, ice cream parlor, and bar featuring signature cocktails and craft beer. The complex will also boast other outdoor games and a playground area.
"It is family fun for all ages with something for everyone," Hayes said. "Katy is a perfect location because it's a strong community with a love for sports and recreation."
The technologically advanced golf-entertainment concept will use a customizable mobile app for delivering food and drink orders to any spot on the golf course. The app will also showcase scores on a digital scoreboard and enroll players in a rewards program. Guests also receive a commemorative golf ball from Bridgestone Golf—Woods' preferred manufacturer for two decades.
"This is a high-profile win for Katy, West Houston and NewQuest's project," said Heather Nguyen, development partner in the Houston-based brokerage firm. "PopStroke puts Katy Grand on the map and speaks to the strength of the location."
PopStroke has properties in Port Saint Lucie and Fort Myers, Florida, and recently announced additional locations headed to Florida and Arizona.
PopStroke will be joining an anchor lineup with a 19-screen Cinemark theater and a six-level Metropark garage. One of Katy Grand's closest neighbors is Andretti Indoor Karting & Games, an 88,000-square-foot venue offering high-speed carts, a half-mile European-style track, a zip line, an arcade and three restaurants.
"PopStroke's facility will add another dimension to Katy Grand. It's rewarding for NewQuest to have created a five-star dining and entertainment destination that has drawn so many new brands to Texas," Nguyen said.