Katy-area counties eye population growth and annual budgets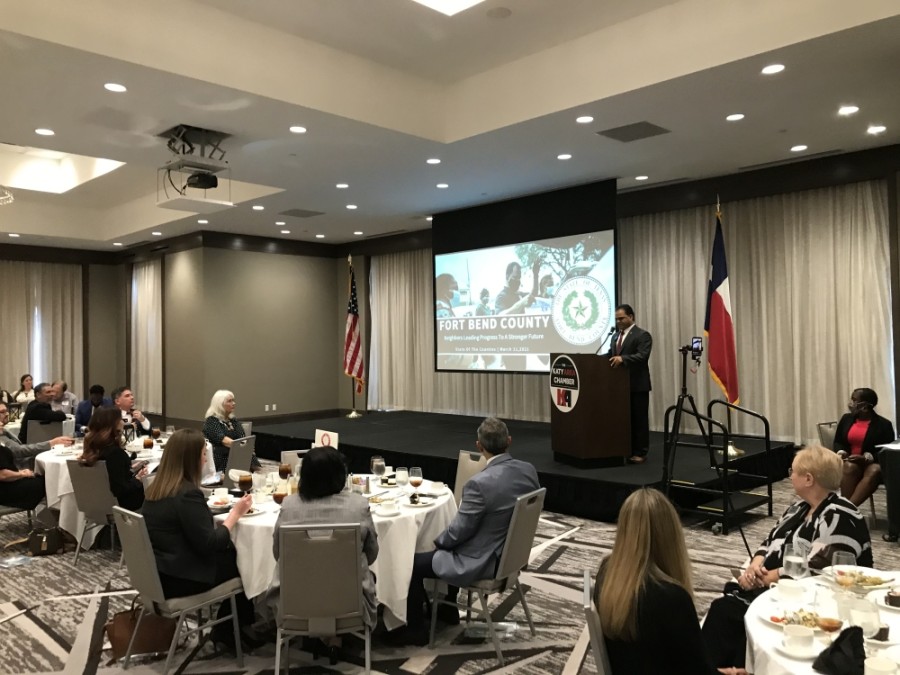 By: Community Impact - Laura Aebi
At the State of the Counties event hosted by the Katy Area Chamber of Commerce on March 11, Waller, Fort Bend and Harris county officials discussed the hurdles of 2020 and their unusual start to 2021.
Harris County
Harris County Judge Lina Hidalgo kicked off the event by acknowledging the gray area of early-2021—beyond what many hope was the peak of the pandemic, but before herd immunity has taken effect.
"We are at a time of both hope—and despair," Hidalgo said. "Despair because of how much we've lost. In Harris County, over 3,300 people have died. Countless have been infected, hospitalized. ... But there's also hope—with the vaccinations being dispersed in all of our counties with top efficiency."
With mobile vaccination sites heading into nursing homes, the county's first shipment of Johnson & Johnson vaccines and Harris County administering more than 6,000 vaccines a day—Hidalgo is hopeful that the county is close to turning a corner. But with less than 7% of the county vaccinated, they still have a "long way to go," she said.
Hidalgo also discussed the non-health-related obstacles that have been exacerbated by the pandemic, such as the digital divide and stable housing options—as well as potential resources that the county has been working on to aid with the issues. For instance, the City of Houston and Harris County are jointly administering a $159 million rental assistance program, she said.
Hidalgo also mentioned improvements the county has made with childcare initiatives, accessible voting improvements and budget reform. Harris County put $10 million toward the first early childhood incubator fund, Hidalgo said, for early childcare and early childhood education, which she called "the intervention with the highest return of investment, as far as public policies go."
Additionally, Harris County has been working on its Community Flood Resiliancy Task Force and its Infrastructure Resilience Task Force, Hidalgo said.
"A pair of entities.... To figure out what do we truly need— in terms of investments, in terms of regulation—in order to be a resilient community," Hidalgo said.
Waller County
Waller County's Judge Trey Duhon addressed the hurdles of the pandemic before sharing details about the county's 2021 budget that delivered "substantial relief" to Waller County taxpayers with the lowest rate since 1988. The move, in large part, was due to the decision by county officials to use the same budget in 2020 as they had in 2019.
"We did a budget freeze of sorts, what some people would call a no-new-revenue budget," Duhon said.
The "no-new-revenue budget" meant the county did not get any new revenue from existing properties, said Duhon, adding that the county did bring in revenue from new properties.
"By doing that, because of the property values in Waller County, we were able to drop our tax rate by 7%," he said.
The budget, which was passed three weeks ahead of schedule, also brings funding for 10 new city employees, a $500,000 increase in materials for road and bridge construction, eight new vehicles for the Waller County Sheriff's Office and $100,000 for parks planning and maintenance.
Duhon also looked at more current projects, such as the construction of their new justice center—a facility that includes a jail, courtroom and sheriff's office— and the Precinct 4 Annex located on Highway 90 between Katy and Brookshire. The $5.3 million project was completed ahead of schedule and on budget, Duhon said.
As for the future, Waller County officials will continue to focus on foreign investment, Duhon said. The county also recently created a program to support small businesses, but cited $22.4 million in tax revenue brought in through economic development activities.
Fort Bend County
Fort Bend County Judge KP George was the final speaker at the event, first discussing Fort Bend County's role in the pandemic as the location of the first verified coronavirus case in the state and the obstacles he faced the second year of his term.
"I am a better man today than I was before 2020," George said.
In Fort Bend County, 2020 brought population growth. The county recently surpassed 859,000 people, and George predicts the trend will continue.
"We will be at one million people in the next couple of years," George said.
With new growth, comes new challenges, George said. He also discussed the pandemic and related topics, such as the county's $45 million contribution to rental and mortgage assistance and $53 million toward small businesses.
As for the future, George discussed the creation of the county's new emergency operations center, a facility that could have been used when Winter Storm Uri that ravaged the area in February. His house is still needing repairs from the event, he said.
The two-story building will be about 24,000 square feet and will consolidate offices and communications spaces to best accommodate the county's response to weather, fire and other emergencies, according to county documents.