Insite Realty and OT&C presentations highlight December GA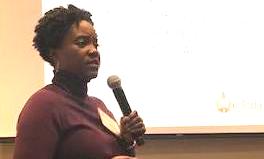 The Katy Area Economic Development Council hosted its last General Assembly meeting of 2019 on Tuesday, December 17 at Embassy Suites Houston West - Katy. InSite Realty and Oilfield Testing and Consulting served as keynote presenters for the meeting.
InSite Realty, a Katy Area EDC member, shared information on its current commercial real estate offerings in the Katy area. Cane Island Business Center and Clay Road Commerce Park, both Insite developments, offer excellent options for companies looking to grow in the Katy area. Cane Island Business Center features two buildings for lease located in in West Ten Business Park totaling 277,000 SF. Clay Road is a 90-acre business park with warehouse and land sites for sale or lease.
OT&C is a growing Katy area company which provides a wide range of services to the oil and gas industry including content and drilling fluids service testing. The organization is also the only third-party cement testing lab of its kind according to company representatives. OT&C was founded in April 2011 and moved to a location in the Katy area at Grandway West Business Park in April of 2019 with roughly 15,000 SF. In addition to its testing services, the company offers specialized fluids and cement lab courses. The addition of OT&C to the Katy area further adds to the growing number of laboratory/research and development facilities located within the Katy area.
"Insite and OT&C highlight the outstanding business opportunities we offer in the Katy area," said Katy Area EDC President/CEO Lance LaCour. "Not only do we have opportunities for companies to grow with access to excellent commercial real estate options but we also have a strong and well-educated workforce which allows companies such as OT&C can find qualified talent in their own backyard."
Board members Fort Bend County and Rosenberger Construction were recognized for membership renewal. At the Strategic Partner level, Insite Realty, Trammel Crow, Katy Ranch Crossing/Freeway Properties and Elizabeth Pratt Law Firm Law Firm, and Associate members Bob Miles Real Estate, Raba-Kistner Consultants, Boucher Design Group, The Whiting Turner Contracting Company, Greater Fort Bend EDC, Guaranty Bank and Trust and Home2 Suites by Hilton also renewed membership.
During the meeting, information was also shared on a newly created Hurricane Harvey Relief program, Texas Back in Business, which benefits small businesses impacted by the weather event. The federally-funded program will be awarding $50,000 up to $250,000 in disaster relief for qualified Texas small businesses damaged by Hurricane Harvey. Texas small business owners can learn more and apply for the program at no cost online at TexasBackInBusiness.com.