Texas Bullet Train presentation headlines October Katy Area EDC GA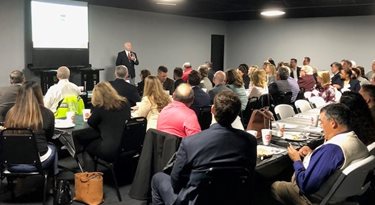 The Katy Area Economic Development Council held its October General Assembly on Tuesday, October 16 at iRace Entertainment. Members and guests gathered for the event which featured a presentation regarding the planned Texas Bullet Train project.

Michael Moore, Regional Vice President of Texas Central Railway, served as the meeting's keynote presenter providing information on the planned Texas Bullet Train. According to Texas Central, a private company leading the project, the approximately 240-mile high-speed rail line will offer a total travel time of less than 90 minutes, with convenient departures every 30 minutes during peak periods each day, and every hour during off-peak periods – with 6 hours reserved each night for system maintenance and inspection. Moore said planned stops for the train include locations in North Texas, the Brazos Valley and Houston. The roughly $12 billion civil infrastructure investment is anticipated to create roughly 10,000 direct jobs during construction and 1,500 permanent jobs once completed. For more information, visit texascentral.com.

"I'd like to thank Michael for coming out and sharing information on one of the latest proposed transit projects in our state," said Katy Area EDC President/CEO Lance LaCour. "This project would greatly assist travel between Houston and Dallas."

iRace Director of Marketing Twyla Grimes, presenting on behalf of the host venue, took time to explain the variety of entertainment options the facility has to offer. Most notably the roughly 60,000 square foot facility is home to an indoor electric kart track with dual-level race course with 1,200 feet of lower-level and 800 feet of upper-level track. The venue also offers numerous other entertainment options including arcade games, bowling, laser tag, a NASCAR simulator and virtual reality games along with a variety of food and drink options. Whether you are planning your next big event or just looking for a day of fun for the kids, iRace is the perfect spot according to Grimes. The facility is located at 24984 Katy Ranch Road with more information on the facility available at iRaceusa.com. Those in attendance were treated to rides on the karts following the meeting. iRace also served as the sponsor for the event.

New members introduced included DL Meacham Construction and Imperial Cost Control, both at the Associate level.

For more information on Katy Area EDC, please visit katyedc.org.