Once completed, Texas Heritage Parkway to connect I-10 to FM 1093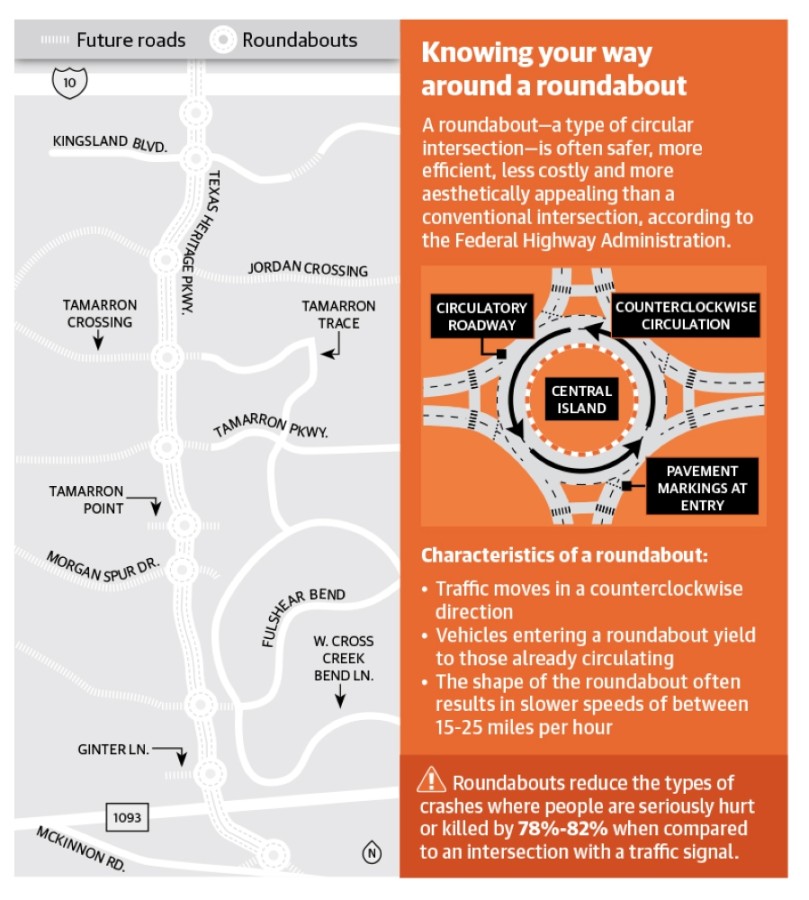 Construction on the $55 million Texas Heritage Parkway project connecting FM 1093 to I-10 is underway, according to Andy Meyers, Fort Bend County Precinct 3 commissioner.
Meyers said construction from just south of FM 1093 to Kingsland Boulevard is 70% complete and is expected to be finished by the end of July. However, work on the segment connecting the new road from Kingsland Boulevard to I-10 is projected to begin in March and may not be completed until October.
Meyers said that before the Texas Heritage Parkway, Grand Parkway and FM 1463 served as the two main connections from I-10 to FM 1093.
"The amount of growth that we've experienced in Fulshear has necessitated more northward mobility, and the Texas Heritage Parkway is the perfect corridor to serve the northwest segment of Fort Bend County," Meyers said in an email. "As Fulshear continues to grow, the road will help mitigate traffic on the Westpark Tollway, FM 1463 and SH 99."
The 6.4-mile road will have two lanes in either direction separated by a median, according to previous Community Impact Newspaper reporting. The road will also feature 10 roundabouts and two traffic lights.
"Signalized intersections cause traffic, are expensive to maintain and upgrade, and have multiple major conflict points," Meyers said in an email. "Roundabouts have proven to move traffic more efficiently and have less major conflict points, which means a much lower probability for major accidents."
A 10-foot-wide trail system will run alongside the parkway, which will have pedestrian crossings under the roundabouts, Community Impact Newspaper previously reported.
"Before the growth in the area, 1093 was used as a major bike corridor," Meyers said. "The road has become too dangerous for bikers to utilize, and we were looking for an avenue to provide safe trails for everyone. This project was a prime opportunity to provide a bit extra that we usually do on mobility projects, so all entities involved in the project enthusiastically jumped at the chance."
Approximately 48% of the project is funded by public entities, including Fort Bend County, the cities of Fulshear and Katy, and sales tax revenue sources, and 52% of the project cost is funded by private participants.
During construction, motorists in the area will not be affected, according to Meyers; however, he said the county and the city of Fulshear have worked with the contractor to address noise complaints related to construction.
"We're excited about the project and cannot wait for it to be opened to the public," Meyers said.