EastGroup Properties, Duke Realty provide updates on Katy area properties at November GA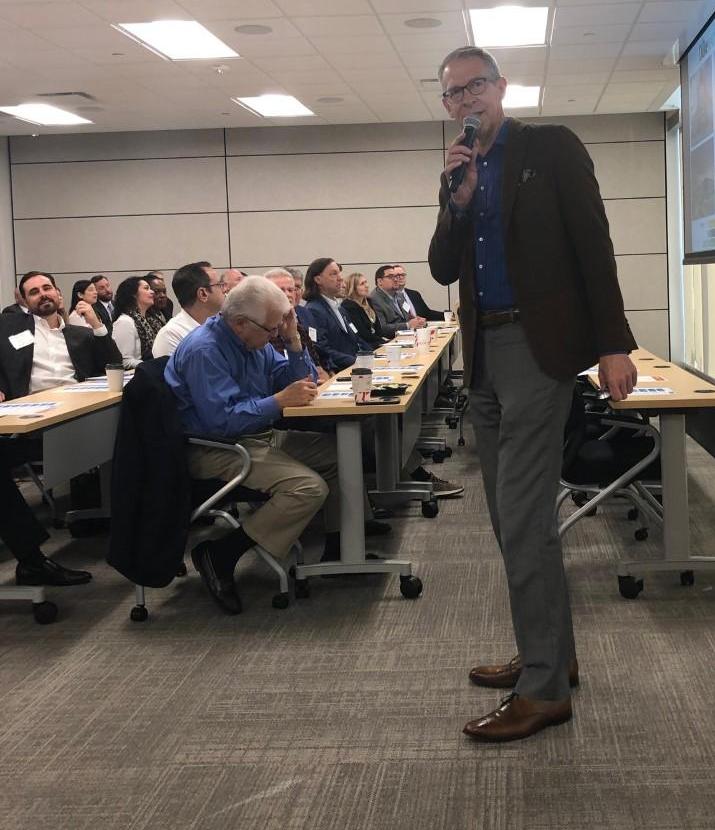 The headquarters of Members Choice Credit Union played host to the November Katy Area Economic Development Council General Assembly meeting on Tuesday, November 19. The monthly meeting, which brings together Katy Area EDC members, community leaders and elected officials, was highlighted by presentations from two area commercial real estate firms and Katy Area EDC members, EastGroup Properties and Duke Realty.
Kevin Sager, representing EastGroup, gave an overview of the CRE company which currently has 6.3 million square feet of space in 75 buildings and 8 business parks within the Katy area. Two highlight properties in the EastGroup portfolio include Ten West Crossing (eight buildings) and Grand West Crossing (six buildings). Both properties, located off the section of Grand Parkway north of I-10, feature numerous options for the industrial and office sectors.
Duke Realty, which was represented by David Hudson, currently has over 7 million SF and 24 properties in the area. Duke's development Clay 99 has over 400,000 SF of industrial/office space available for prelease. The planned business park has further capacity for growth to over 1.5 million SF and offers excellent access to major highways as it is situated just north of I-10 on the west side of Grand Parkway.
"We were fortunate to have Kevin and David share information about their properties within the Katy area," said Katy Area EDC President/CEO Lance LaCour. "Our area continues to experience tremendous growth in the industrial sector with access to excellent properties such as Ten West Crossing, Grand West Crossing and Clay 99."
Colin Gary of Project Recovery Harris County, which is administering Disaster Recovery Grants, was on hand to explain the process of applying for funds which have been earmarked to assist in the recovery from flooding events including Harvey. For more information, you can visit the Harris County website at harrisrecovery.org/project-recovery/.
Several members were acknowledged for membership renewal including Board of Governors members City of Katy and Vista along with InSite and Katy ISD at the Strategic Partner level. Associate members Alston Construction, Amegy Bank, Cornerstones MUD, Republic Services, Pin Oak Atrium, Moody Rambin, Members Choice Credit Union, Jones Carter, Transwestern and Terry's Landscape. Katy Area EDC would like to thank renewing members for their continued support of the organization and its mission.