Higher education expansion to help Katy-area economy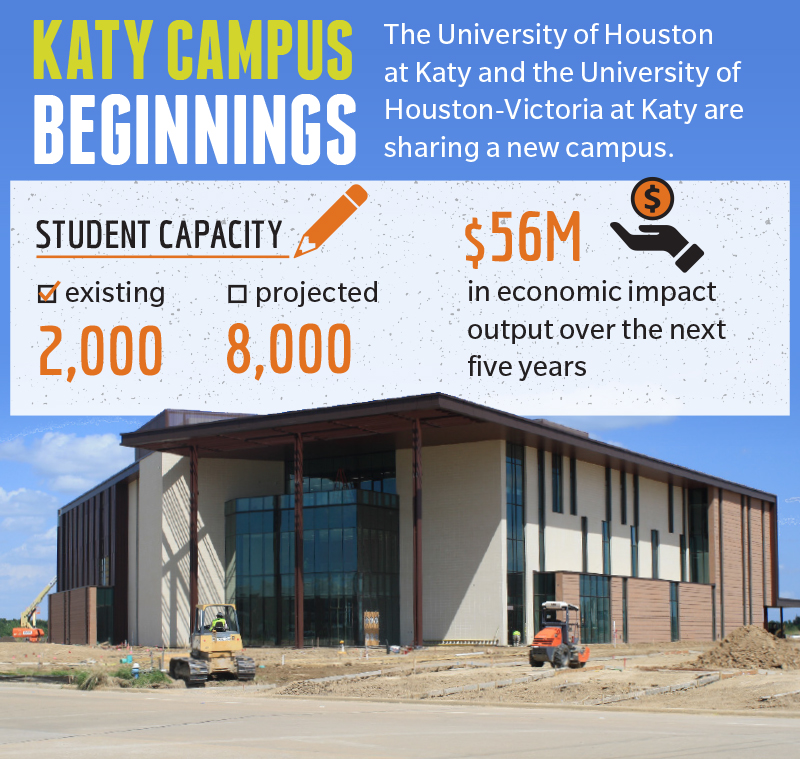 By: Jen Para - Community Impact
The University of Houston System opened a new Katy-area campus mid-August, and local experts said this investment in the local community is expected to positively affect the Katy-area economy.
The Katy Area Economic Development Council estimates the new campus—which is shared by University of Houston at Katy and University of Houston-Victoria at Katy—will have an initial estimated $56 million in economic impact output over the next five years based on the first phase of the campus, located at 22400 Grand Circle Blvd., Katy.
Graduating students will become a homegrown workforce, trained to fulfill jobs at Katy and West Houston-area companies, said Jay Neal, the academic affairs associate vice president and chief operating officer for UH at Sugar Land and UH at Katy.
And a highly educated workforce will attract more businesses to the area, creating even more jobs.
"The housing is great, K[aty]ISD's education is phenomenal, and businesses are attracted to that," Neal said. "But you need a professional workforce pipeline. … By having higher education in the community, it will provide higher-paid citizens who have higher purchasing power."
Economic effect
A 10% increase in a region's number of universities per capita is associated with 0.4% higher future gross domestic product per capita in that region, according to a 2019 study about the economic impact of universities published in the Economics of Education Review journal.
This is caused by an increased supply of human capital and greater innovation, the study states.
Increased levels of education are positively associated with a host of factors related to quality of life, UHV President Bob Glenn said.
"I can show you a stack of research that demonstrates that as the level of education goes up, income goes up, the level of good health goes up [and]good choices increase," he said. "Every indicator that the state points to as positive improves as more people obtain graduate and bachelor's degrees.
Companies want to move to areas with highly educated workers, said Zachary Hodges, the president of Houston Community College Northwest. He is leading HCC-Katy's move to an expanded facility near the new UH System campus. Together, UH, UHV and HCC will operate like a traditional four-year college campus but without dorms.
"Any business coming in is going to bring their leadership, but they will also need to hire workers," Hodges said. "And they'll be looking at what workforce programs are in place."
As companies expand in the Katy area thanks to its educated workforce, additional retail- and service-related jobs will follow, said Auggie Campbell, the president and CEO of the West Houston Association, a nonprofit that advocates for better infrastructure, planning and development. He added new developments are already opening next door to the new campus.
"Families want to move to areas with good elementary schools and high schools," Campbell said. "But businesses want to move to areas with universities."
Workforce needs
UH, UHV and HCC leadership said the Katy-area expansion is directly responding to local employers' needs for qualified health care, business, education and science and technology employees.
Between 2018-25, the Katy area accessible within a 30-minute drive is expected to add about 75,000 jobs, according to KAEDC data.
About 21,000 of those added jobs will be heath care related. To establish a workforce pipeline for this industry, UH at Katy offers nursing degrees, while UHV at Katy offers courses in psychology and counseling.
Vicki Brownewell, Houston Methodist West's vice president and chief nursing officer, said the hospital is continually hiring nurses to keep up with population growth.
"Although there's not a severe shortage at this time, more nurses are always needed." Brownewell said.
About 9,500 jobs in business management, finance and insurance as well as about 3,100 education-related jobs will also be added by 2025 in the Katy area accessible within a 30-minute drive time, per the KAEDC data. UHV at Katy supplies business leaders through its school of business administration and future teachers through its school of education, health professions and human development.
Additionally, about 6,100 professional, scientific and technical services jobs will be added to the Katy area, per the KAEDC data. A partnership between UH at Katy and HCC-Katy will help educate the engineers of tomorrow. Greater Houston-area engineering firms are already struggling to find qualified employees, said Bob Chalker, the CEO of the National Association of Corrosion Engineers International, located near the Energy Corridor.
"It is challenging for companies in the Katy and West Houston area to hire engineers locally," he said. "We are seeing a transition in the workforce with baby boomers retiring and not enough young people entering the engineer field to meet the demand."
With a location near the intersection of the Grand Parkway and I-10, the UH and HCC campuses will have access to about 3 million people within a half-hour drive time, Campbell said. This is important to attract students across the West Houston area.
The campus will help students juggle the work-life balance by working, living and going to school in the same area, Campbell said. HCC and UH will also offer degrees for a reasonable price.
"There are a lot of kids who want to leave Katy, but there are many who want to stay for a variety of reasons, including work and an economic model for education," Neal said.
Future plans
More than a decade ago, local leaders forecasted the Katy area's population growth and saw a need for additional higher education opportunities, said Dick Phillips, who spearheaded the effort to expand the UH System in Katy.
This vision is finally coming to fruition and will expand.
UH at Katy is conducting a study of the economic impact the university will have on the community, said Neal and Phillips, who is now the associate provost of outreach and communication at UH. The study is expected to be released in the coming months.
UH at Katy has also begun a master strategic plan to outline future growth at the campus, Neal said. UHV will soon start its own plan, too, he added.
Over the next 10-15 years, the campus is expected to add four buildings for a total of 8,000 students, Neal said. HCC-Katy's building is expected to have capacity for 7,000 students.
The Katy campus will add additional degrees as needed by the business community, and there are plans to conduct focus groups with local business owners, Neal said.
"We projected the growth in Katy—the only limitation is the resources," Phillips said. "The demand [for education and a trained workforce]far exceeds the supply."