Katy to see more development northwest of I-10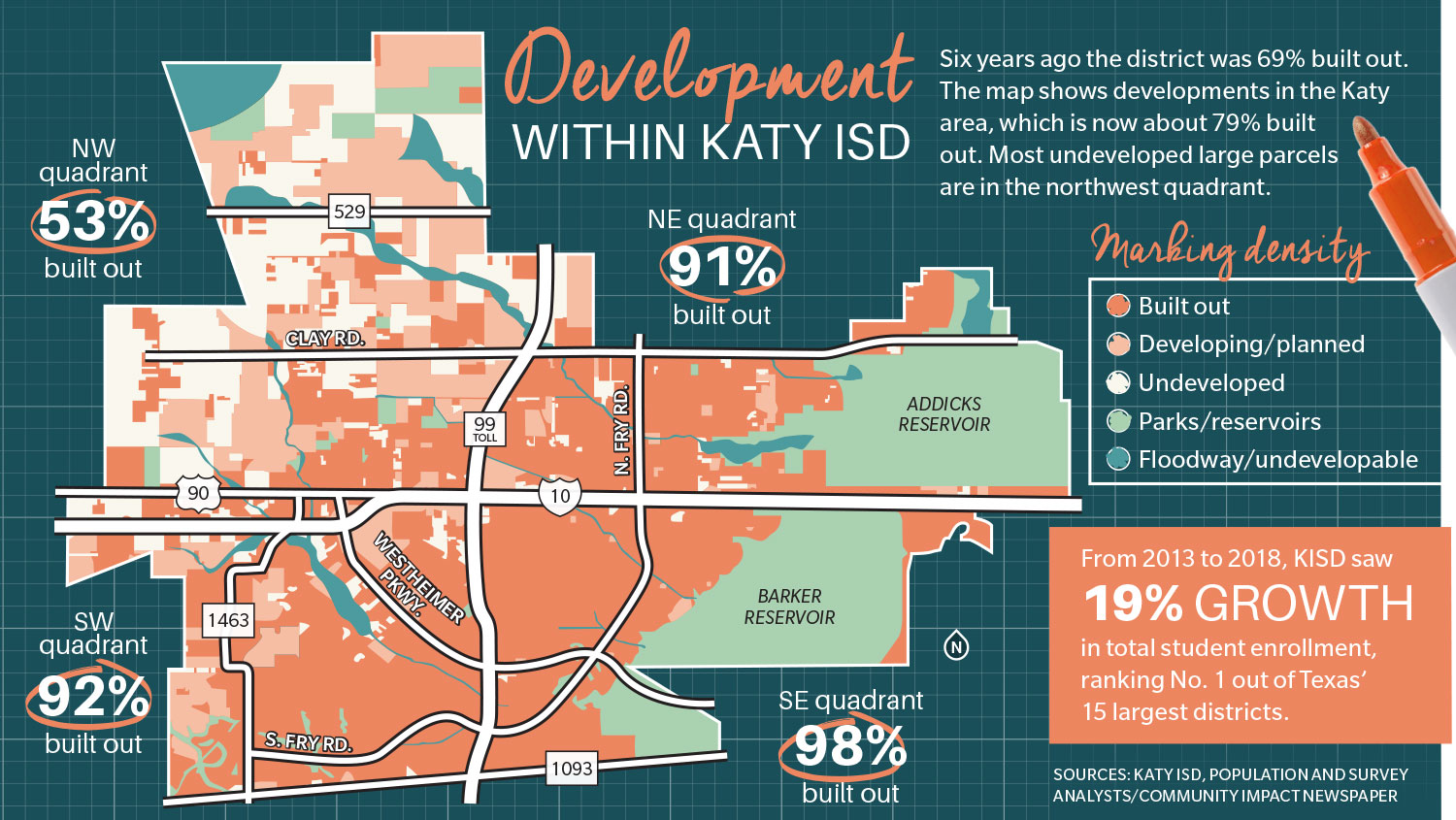 By Nola Z. Valente | 6:30 am July


Sources: Population and Survey Analysts, KISD/Community Impact Newspaper | Designed by Anya Gallant
After years of accelerated growth, residential development in south Katy is approaching build-out.
Demographics firm Population and Survey Analysts projects Katy ISD's boundaries will be built-out south of I-10 by 2028, while the construction of thousands of new homes is expected to continue north of I-10 and southwest into Lamar CISD.
Six years ago, 31% of the land within KISD boundaries was undeveloped, according to PASA. In 2018, 21% of the land was undeveloped.
PASA demographer Pat Guseman, who has been working with KISD since 1996, said the district has several characteristics which make it prone to reach build-out, including its high quality of life, stable socio-economic status and high passage rates for standardized tests.
Tim Sojka the CEO of See Tim Sell Property Group, said there are advantages and disadvantages for the areas to be built-out by 2028.
"The advantages are you are no longer competing with the builders to sell your home, so your home should, in theory, sell faster and can sell for more," he said. "But when the builder was there, they spent a lot of time and resources advertising your neighborhood; Once they leave, it is up to homeowners in the neighborhood to market itself."
Sojka added neighborhoods such as Cinco Ranch do well in promoting its brand despite being basically built-out, and once builders are out, the biggest promotion to a neighborhood is the schools.
"In Katy, it comes down to the schools," he said. "If the schools are great, you are going to be in very good condition for a long time."
Circular demand
Guseman said Katy has been building out over 40 years and the Katy district is healthy because people are aging at different times.
"There will be a late demand for the now older, less attractive neighborhoods," she said.

Spring Branch ISD is located between Katy and Houston, and the district grew quickly between the mid-1950s and mid-1970s. By 1985, the student enrollment number since its peak dropped almost 50%, and the school board voted to consolidate.
Guseman said SBISD built out rapidly over 15 years, and the district closed schools because everyone aged at the same time and no one moved out.
KISD had the largest number of new homes in 2014, a trend which has since slowed partially due to the gradual build-out of the district, the 2015-17 oil price dip and the flooding of homes during Hurricane Harvey two years ago.
With 865 housing starts in 2018, KISD had the fourth-highest number of new homes out of 61 school districts in the Houston-The Woodlands-Sugar Land metro area, the PASA report shows. It ranked behind Lamar CISD at 1,011 starts and Fort Bend ISD at 897 starts.
"In general, build-out is absolutely a good thing," Sojka said. "When builders are out, home prices go up because you don't have anyone to compete with and there is a higher demand."
While coveted neighborhoods in KISD will continue to increase in value, older neighborhoods that have not been well maintained will not until about 35 years have passed, Guseman said.
"The older neighborhoods that might not right now increase in value will attract younger families as older families age out of coveted neighborhoods," she said. "Adding children will increase the value of housing again."
KISD is an atypical district, Guseman said. Normally, there is lower demand in an area as infrastructure ages, but Katy will remain in demand because of its high-regarded qualities.
A few new senior developments are underway each year in KISD to provide housing for residents who might sell their homes to younger homeowners, according to PASA. It also showed studies predicting a growing trend of older people becoming more oriented to renting living space and using their previous home as an asset to provide retirement.
"If a family builds a 4,000-square-foot house in Cinco Ranch in 2017 and by 2030, their kids are off to college, the aging couple might not want to deal with 4,000 square feet," said Lawrence Dean, Regional Director for Metrostudy, which provides market information to the housing and residential construction industry. "They will move and downsize to a smaller home and put that big, comfortable sized family house on the market. Then, another family who wants to move to Katy with their children can buy it."
More to come
The majority of all remaining growth in Katy is in the northwest sector, according to PASA. There are 3,365 acres for sale or just sold west of Katy Hockley Cut-Off Road and north of FM 529 and another 3,400-plus acres either for sale or already under contract west of the Grand Parkway and north of Clay Road.
These parcels are also the most affected by wetlands issues and drainage challenges, which means new housing developments will require critical attention post-Harvey, the report shows.
"Most of that land up there is contentious with flood plains, and part of that may be reserved for flood retention and detention," PASA demographer Justin Silhavy said.
Different kinds of developments are expected to appear to the north of I-10, Dean said. There will be large, amenitized, master-planned communities, which are prevalent south of I-10.
Developments already present in the north include Cane Island and Elyson, but he added there are smaller pocket neighborhoods in and around these larger communities as well as water-oriented communities, such as Lake House and August Lakes.
In the Camillo Lakes, Treviso Gardens and Marcello Lakes developments, major homebuilders are encouraging more affordable homes to appeal to millennial buyers, with lots between 45 feet and 55 feet wide, Dean said. The overall theme within KISD boundaries is focused on new homes and communities that are family oriented.
Sojka expects the developments in northwest Katy to have a positive effect on the district.
"The same builders and developers that are building in northwest Katy now are the same builders and developers that had staggering success at south Katy," he said. "When other sections north of I-10 were built-out, those weren't the same builders—developers to the south of I-10. It was a different quality."
Going south
With less land available on the south side of the KISD's boundaries, there will be an increase in housing starts in Lamar CISD, Silhavy said.
Lamar CISD will see steady growth over the next 10 years, whereas most of KISD's growth will peak during the first five years, Silhavy said.
Cross Creek Ranch within KISD is expected to see 796 new single-family homes from 2018-23 and only 25 from 2023-28, PASA data shows. The portion of Cross Creek Ranch within Lamar CISD will see 661 new developments in the first five years and 602 in the second five years.
"Now that [southwest]Katy is building out, you can't find new homes there as easily as before," Silhavy said. "About 10 or 15 years ago, no one knew what Lamar was but now people are looking at Lamar and thinking, 'This isn't so bad.' Test scores and rankings in Lamar have improved dramatically, particularly in the north, where there are a lot of new campuses."


Sources: Population and Survey Analysts, KISD/Community Impact Newspaper | Designed by Anya Gallant